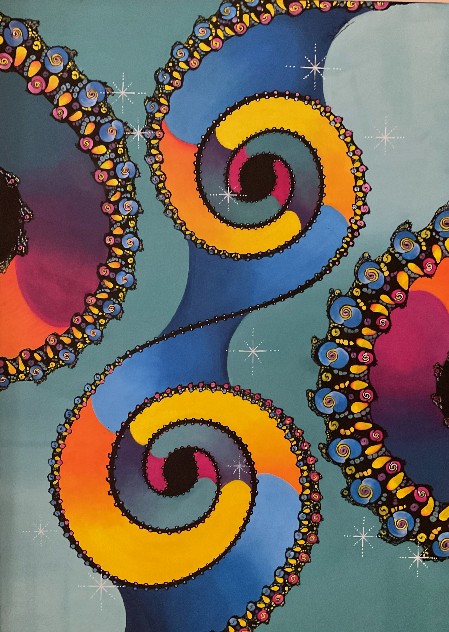 Fractal
Details highlighted
Price: €1200.00

Handmade

Technique: Acrylics on canvas

Width: 50cm
Height: 70cm
Depth: 1.5cm
A fractal is a geometric shape characterized by repeating itself infinitely, always with the same shape but reduced in size! In nature, this peculiarity can be recognized in the leaves of the ferns, in the Roman cauliflower, but also in the branches of the trees, in the bronchi of the lungs, in the ramifications of the rivers, in the spirals in the shells, in the galaxies and so on; are examples of self-similar shapes! In essence, fractal can be defined as anything that has a geometric structure that repeats itself on different scales of measurement, without changing its appearance.
This implies the possibility that the universe is structured according to the so-called "cosmological principle" which describes itself both in the macrocosm and in the microcosm!
All original paintings are shipped within 2-3 weeks after payment confirmation.
All originals are shipped to Europe by UPS or TNT post, depending on size and destination. I'll be sure to email you shipping notification and tracking details once your painting has been shipped. If you are located outside the European Community, please email me and I will put your painting on hold while we discuss shipping options at: info@iostephy.com
All major credit cards and PayPal are accepted and processed through Paypal. All customs and duties fees are the responsibility of the buyer.
If you have any questions, please email info@iostephy.com
All sales are final. I am unable to accept returns, exchanges or cancellations. However, it is very important to me that you are satisfied with your purchase, so please email me if you have any problems with your order at: info@iostephy.com
If you have any questions, do not hesitate to email me at: info@iostephy.com