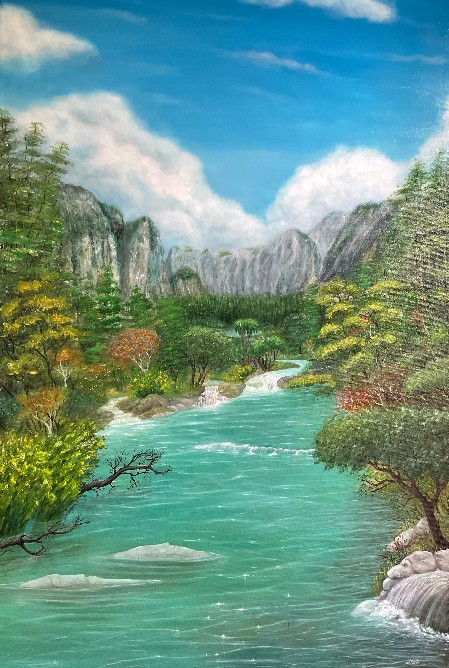 The Watercourse in the Woods
Details highlighted
Price: €2300.00

Handmade

Technique: Acrylics on canvas

Width: 80cm
Height: 120cm
Depth: 1.5cm
I started this painting way back in 2006 with the intention of making a path in the middle of a wood, but then the vicissitudes of life led me to put painting aside for many years.
When I resumed painting, I wanted to finish the canvas that had remained incomplete, but I was unable to complete the work until one day Virna Cinà, whom I had just met, after hearing the story of the incomplete painting, asked me to continue to paint the picture.
Virna is very good at painting water, and in fact she didn't hesitate to add a stream instead of a path! in April 2023 we completed the work, and this is the result!
All original paintings are shipped within 2-3 weeks after payment confirmation.
All originals are shipped to Europe by UPS or TNT post, depending on size and destination. I'll be sure to email you shipping notification and tracking details once your painting has been shipped. If you are located outside the European Community, please email me and I will put your painting on hold while we discuss shipping options at: info@iostephy.com
All major credit cards and PayPal are accepted and processed through Paypal. All customs and duties fees are the responsibility of the buyer.
If you have any questions, please email info@iostephy.com
All sales are final. I am unable to accept returns, exchanges or cancellations. However, it is very important to me that you are satisfied with your purchase, so please email me if you have any problems with your order at: info@iostephy.com
If you have any questions, do not hesitate to email me at: info@iostephy.com