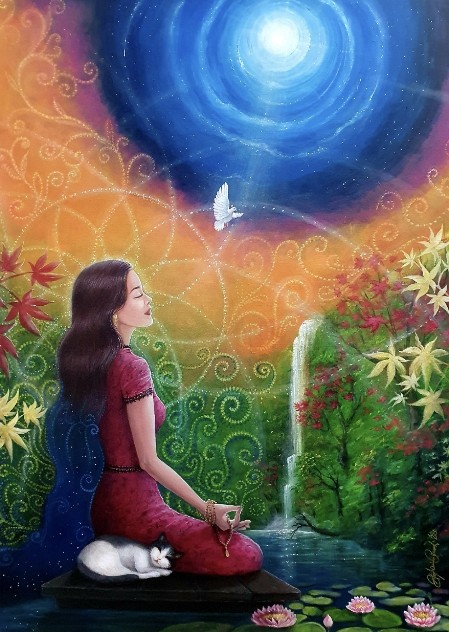 Details highlighted
Price: €1200.00

Handmade

Technique: Acrylics on canvas

Width: 70cm
Height: 50cm
Depth: 1.5cm
There are methods and techniques that help us create a special space within us, to regenerate ourselves and get in touch with that wonderful energy that everyone has. One of these is meditation.
This painting is inspired by my personal experience derived from the aforementioned practices.
"Peace cannot be bought, it is something we must learn to find within ourselves. And in today's world which subjects us to an exhausting tension, the need for peace is greater than ever."
"By the practice of meditation you will discover a portable paradise in your heart."
Paramanansa Yogananda
All original paintings are shipped within 2-3 weeks after payment confirmation.
All originals are shipped to Europe by UPS or TNT post, depending on size and destination. I'll be sure to email you shipping notification and tracking details once your painting has been shipped. If you are located outside the European Community, please email me and I will put your painting on hold while we discuss shipping options at: info@iostephy.com
All major credit cards and PayPal are accepted and processed through Paypal. All customs and duties fees are the responsibility of the buyer.
If you have any questions, please email info@iostephy.com
All sales are final. I am unable to accept returns, exchanges or cancellations. However, it is very important to me that you are satisfied with your purchase, so please email me if you have any problems with your order at: info@iostephy.com
If you have any questions, do not hesitate to email me at: info@iostephy.com