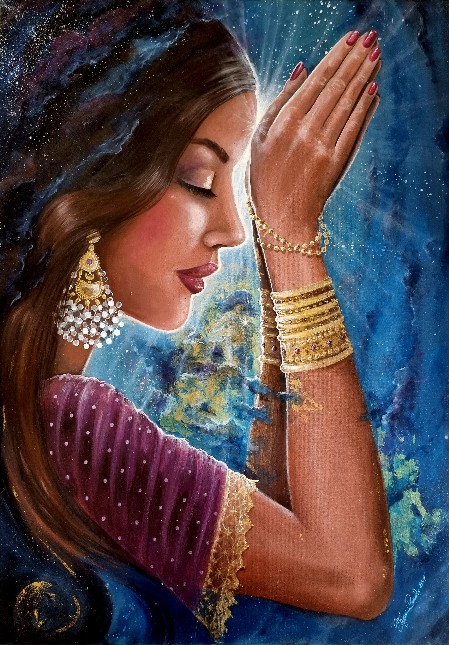 Details highlighted
Price: €1100.00

Handmade

Technique: Acrylics on canvas

Width: 70cm
Height: 50cm
Depth: 1.5cm
I wanted to dedicate vector illustrations for sale on various microstock sites and more than one painting to this magnificent word... Namastè! For those who still don't know, this word is a greeting expression originally from India which means "I honor the place in you where the entire universe dwells. I honor the place in you that is love, truth, light and peace. When you are in that place within you and I am in that place within me, we are one."
I wish everyone to find that wonderful place that everyone has in their underwear!
All original paintings are shipped within 2-3 weeks after payment confirmation.
All originals are shipped to Europe by UPS or TNT post, depending on size and destination. I'll be sure to email you shipping notification and tracking details once your painting has been shipped. If you are located outside the European Community, please email me and I will put your painting on hold while we discuss shipping options at: info@iostephy.com
All major credit cards and PayPal are accepted and processed through Paypal. All customs and duties fees are the responsibility of the buyer.
If you have any questions, please email info@iostephy.com
All sales are final. I am unable to accept returns, exchanges or cancellations. However, it is very important to me that you are satisfied with your purchase, so please email me if you have any problems with your order at: info@iostephy.com
If you have any questions, do not hesitate to email me at: info@iostephy.com